touch dimmer with FPC fast connector
Notice
: Function id was called
incorrectly
. Product properties should not be accessed directly. Backtrace: require('wp-blog-header.php'), require_once('wp-includes/template-loader.php'), include('/plugins/woocommerce/templates/single-product.php'), wc_get_template_part, load_template, require('/plugins/woocommerce/templates/content-single-product.php'), do_action('woocommerce_after_single_product_summary'), WP_Hook->do_action, WP_Hook->apply_filters, woocommerce_output_product_data_tabs, wc_get_template, include('/plugins/woocommerce/templates/single-product/tabs/tabs.php'), apply_filters('woocommerce_product_tabs'), WP_Hook->apply_filters, WC_Tab_Manager->setup_tabs, WC_Abstract_Legacy_Product->__get, wc_doing_it_wrong Please see
Debugging in WordPress
for more information. (This message was added in version 3.0.) in
/home/customer/www/semi-light.com/public_html/wp-includes/functions.php
on line
5905
Notice
: Function id was called
incorrectly
. Product properties should not be accessed directly. Backtrace: require('wp-blog-header.php'), require_once('wp-includes/template-loader.php'), include('/plugins/woocommerce/templates/single-product.php'), wc_get_template_part, load_template, require('/plugins/woocommerce/templates/content-single-product.php'), do_action('woocommerce_after_single_product_summary'), WP_Hook->do_action, WP_Hook->apply_filters, woocommerce_output_product_data_tabs, wc_get_template, include('/plugins/woocommerce/templates/single-product/tabs/tabs.php'), woocommerce_product_description_tab, wc_get_template, include('/themes/Avada/woocommerce/single-product/tabs/description.php'), apply_filters('woocommerce_product_description_heading'), WP_Hook->apply_filters, WC_Tab_Manager->core_tab_heading, WC_Abstract_Legacy_Product->__get, wc_doing_it_wrong Please see
Debugging in WordPress
for more information in
/home/customer/www/semi-light.com/public_html/wp-includes/functions.php
on line
5905
Product Description
Product Name: touch dimmer with FPC fast connector.
Order No:ET03
Input:DC9-24V
Load power:12V 60W,24V 96W
Size:44*9mm
Function: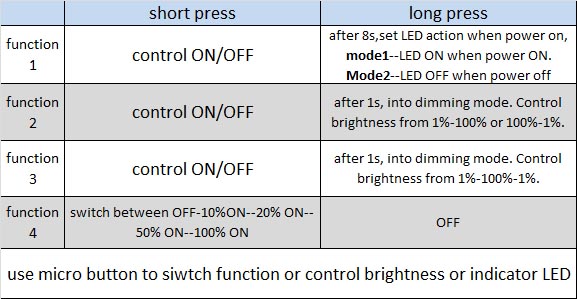 Soft start:YES
No hestita to contact us directly if you need:
  more information
 customized special function
 customized size, print logo, special packing.
 assit of product developing
we have more than 100 type of flex strips and easy bar light, more than 100 models of LED aluminum profiles. Let's make the right prduct for you!
Notice
: Function id was called
incorrectly
. Product properties should not be accessed directly. Backtrace: require('wp-blog-header.php'), require_once('wp-includes/template-loader.php'), include('/plugins/woocommerce/templates/single-product.php'), wc_get_template_part, load_template, require('/plugins/woocommerce/templates/content-single-product.php'), do_action('woocommerce_after_single_product_summary'), WP_Hook->do_action, WP_Hook->apply_filters, woocommerce_output_product_data_tabs, wc_get_template, include('/plugins/woocommerce/templates/single-product/tabs/tabs.php'), woocommerce_tab_manager_tab_content, WC_Abstract_Legacy_Product->__get, wc_doing_it_wrong Please see
Debugging in WordPress
for more information. (This message was added in version 3.0.) in
/home/customer/www/semi-light.com/public_html/wp-includes/functions.php
on line
5905
[contact-form-7 id="18271″ title="Inquiry"]